- Summary -
Date
September 6th and 7th, 2017
Place
Hachinohe Plaza Hotel
1-6-6 Kashiwazaki, Hachinohe-shi, Aomori

Tel.
+81-178-44-3121 URL:http://plazahotel.jp/
Nearest station
Hon-hachinohe Station

Sponsors
Aomori Prefecture Black Garlic Association, National Black Garlic Association
Co-sponsors
Japanese External Trade Organization, Aomori Prefecture Small Business Association
With the support
Ministryof Agriculture, Forestry and Fisheries,Aomori Prefecture, Hachinohe City, Japan Foodservice Association, Aomori Prefectural IndustrialTechnology Research Center, Hachinohe Regional Industry Promotion CenterSergio
way to participate
Please apply from the World Black Garlic Summit Participation Application Form or download the program and apply by email or fax.
- Program -
Wednesday, Sept 6, 2017 Plaza Hotel
13:00〜
●Reception
13:30〜

●Opening Ceremony

【Opening speech】

My Encounter With Black Garlic

Certified sommelier F.I.S.A.R./ Exculsive chef of Alice TV/ Managing Teutonico cooking school

Mr.Sergio Maria Teutonico

14:30〜

1 New Possibilities Of Black Garlic

Tohoku Medical and Pharmaceutical University

Divisions of Department of Pharmaceutical Sciences, Faculty of Pharmaceutical Sciences

Mr. Kenroh Sasaki, Pharmacognosy Professor

2 Approach To Black Garlic In Philippines

Mariano Marcos State University

Dr.Sherley C.Agrupis

16:40〜

Part2

Announcement of approaches for standardization of the ingredients

Analysis And Standardization Of Black Garlic

Aomori Prefectural Industrial Technology Research Center

Agricultural Products Processing Research Institute

Mr. Yoshifumi Yamaya

17:30〜

Part3

Ceremony for authorizing as the recommended product

Ceremony For Authorizing As The Recommended Food Product By National Black Garlic Association

Mr. Jinichi Sasaki, Ph.D. in Medicine

17:50〜

Summit declaration

Summit declaration

International Black Garlic Summit Declaration

Chairperson of International Black Garlic Conferences

Mr. Shinichi Kashiwazaki

18:00〜

Exchange Party

at Plaza Urban Hall

The exchange party will be held after the summit.
While enjoying the world's black garlic cuisines, let's develop our friendships.
●Summit participation fee : 2,000 yen/person
●Exchange party participation fee : 6,000 yen/person  
※Your payment will be made on the day.
Thursday, Sept 7, 2017 Plaza Hotel
09:30〜
●Reception
10:00〜

Black Garlic Cooking Grand Prix

My Ideas For Black Garlic Cooking
Participants from some cooking schools and colleges, and presentations will be given by 5 selected groups. The awards are 50,000 yen for the grand prize.
11:00〜

Mini Talk Show

Cuisines Of The World And Its Culinary Trends

"Iron Chef " and "SMAP×SMAP" Culinary supervisor/Food coordinator

Ms. Setsuko Yuki

11:45〜

Awards Ceremony

Black Garlic Cooking Grand Prix Award Ceremony

Head judge Ms. Setsuko Yuki

Judge Mr.Sergio Maria Teutonico

12:00
●Closing Ceremony
Black garlic cooking showdown will be coming up again!
The winner will be decided by your vote.
●Participation fee for Black garlic cooking grand prix : 2,000 yen/person
※Your payment will be made on the day.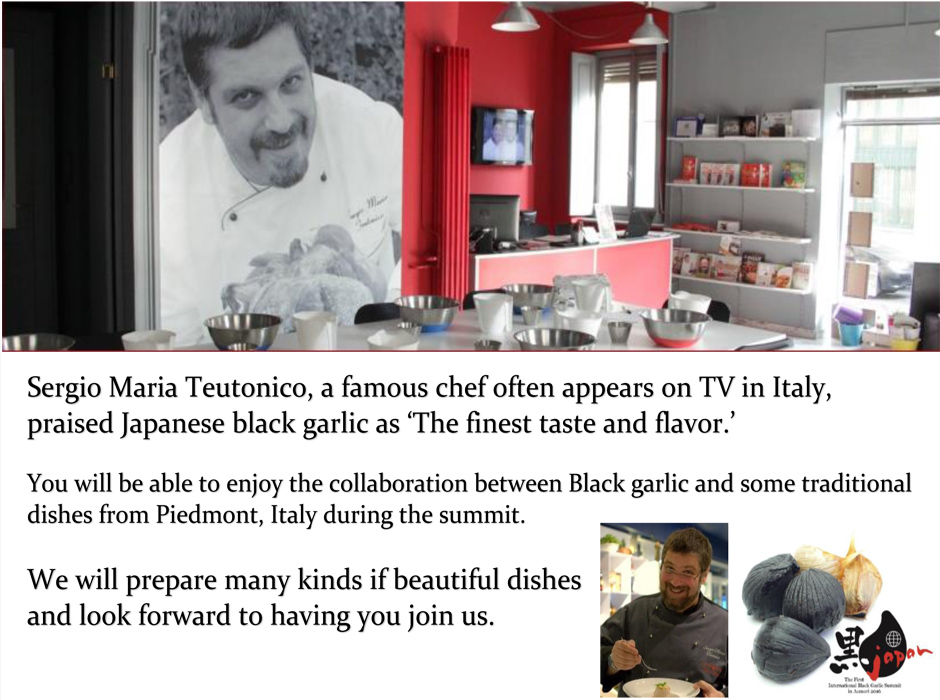 ※本サミットと推奨商品認定式は、(公財)むつ小川原地域・産業振興財団の支援を受けて実施しています。